When you think of Easter, you think of chocolate bunnies and pastel-coloured Easter eggs, right?! I have had a few friends begging me to post a chocolate dessert, so I thought this would be the perfect time to pair the colours and flavours of spring with chocolate. I must admit, this isn't my recipe but it is so easy, healthy and delicious, I had to share. I changed it a bit by using kiwi, blueberry and raspberry instead of the original strawberry (which was amazing as well, I just couldn't find fresh strawberries at the local market!).
Go ahead, have more than one! The only ingredients are fruit, pure maple syrup and coconut, wrapped in antioxidant-rich dark chocolate! They can be made ahead but ensure to keep them in the fridge after the final step of freezing. I find leaving them out on the counter for at least 15 minutes before eating helps soften the creme center as well.
On another note, since taking this holistic nutrition class, I have learned of the detrimental effects of chemicals on the digestive system, nervous system, immune system…basically every bodily mechanism you can think of. The more toxins we bombard our body with, the harder it is on our liver and intestinal system to process them, thus causing inflammation and setting the stage for many diseases such as allergies, autoimmune diseases and sometimes, cancer. I haven't dyed eggs for Easter yet, but wanted to share this great article I found: "Dyeing Easter Eggs Naturally".
I hope everyone has a great Easter weekend and treats themselves to a bit of Easter chocolate!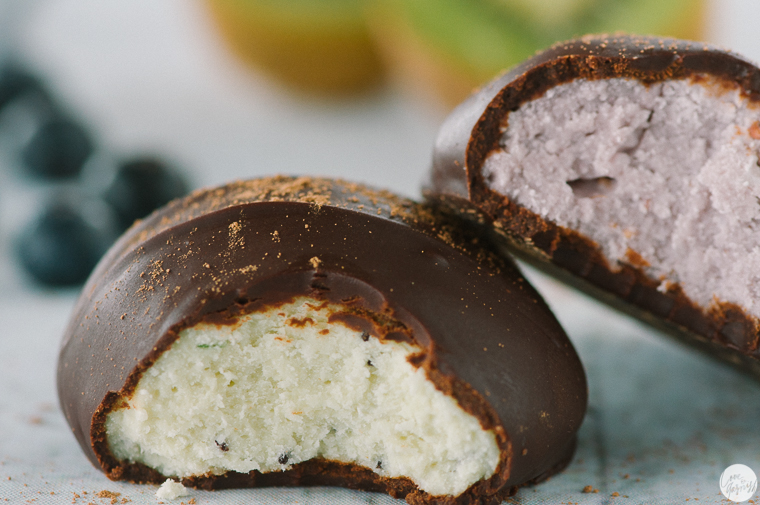 Easter Truffles: kiwi, blueberry, and raspberry creme
2014-04-17 20:55:43
GROCERY LIST
FILLING
3 cups of full fat, unsweetened shredded coconut
1 cup fruit of your choice (I used kiwi, blueberry and raspberry but strawberry is great too!)
2 1/2 Tablespoons of maple syrup
CHOCOLATE
1 1/2 cups of organic, fair trade, dark chocolate chips
DIRECTIONS
In a food processor, blend coconut until thick and creamy, continually scraping down the sides; about 15 minutes. This should make 1 cup of coconut butter, but measure to ensure and reserve whatever is over 1 cup.
In the same food processor, combine 1 cup of the coconut butter and the remaining filling ingredients (only one cup of one fruit at a time) and pulse until well incorporated.
Using a cookie scoop (or ice-cream scoop for larger ones like pictured), drop small balls of the filling onto a lined baking sheet.
Place the baking sheet in the freezer to allow the creme balls to firm up.
While the creme is firming, melt the chocolate chips using the double broiler method (see Notes).
Stir constantly until all the chips are melted and the mixture is smooth.
Remove the creme balls from the freezer.
Roll the balls in the chocolate and place them back onto the lined baking sheet.
Place the finished truffles back in the freezer to firm up; it should take about 30 to 60 minutes.
Keep the truffles in the fridge up to a couple of weeks and leave out on the counter for 10-15 minutes before eating to soften the centres.
Notes
The original recipe is from www.mywholefoodlife.com ~ a great whole-foods blog! Check it out here !
For a quick "how to" video on the double broiler method, click here !
Love & Garnish — A Nourishing Kitchen http://loveandgarnish.com/