Well, that was an interesting couple of days! Last week, I had this great idea to finally do a juice cleanse and blog about my mini-adventure. I have always wanted to do one due to the numerous health benefits: it's a great way to give your digestion a break while detoxifying your liver, cleansing your blood and providing a jolt of concentrated nutrients and raw enzymes directly into your cells.
12 hours into the juice cleanse, I realized this was the wrong time to have started such a thing! I was stressed from school, overwhelmed at home, and my body was already weak from some personal health issues. Regardless of the benefits of juicing, sometimes you have to listen to your body, and my body (more-so my brain!) was saying "GIVE ME REAL FOOD!". My biggest concern before I started was that I would be hungry, but that wasn't even the problem. Towards the end of the first day, my brain could barely function. I had studying to do, case studies to work on, and this blog to write! However, all I could do was stare blankly at a page in my sports nutrition book and say "That's it. I'm eating some actual food." So, there went the cleanse and in went some real food. Ahhh…that's better. Well, I went to bed feeling a little discouraged and thought "Ok, I will give it one more try tomorrow". I really wanted to make it through at least one day! The second day came around and like clockwork at 4 pm, I began to get the same symptoms again. I have never felt more unlike myself! No motivation and no energy; I couldn't get anything on my to-do list done. Well, I had made it through one day and I think that's all I could muster this go around.
Now this isn't to say juicing isn't beneficial. Oh, quite the contrary. This just wasn't the right time in my hectic schedule to be doing a juice cleanse. Why not just eat the whole fruits and vegetables, you ask?! Well, often times we don't! However, by removing the fiber from the vegetables and fruit, the concentrated nutrients, enzymes, vitamins, minerals and phyto-chemicals can be more easily digested and absorbed directly into the cells and tissues of our body.
Since I was drinking 6 juices a day, I had to start getting creative. I walked into the grocery store and thought "What have I never juiced before?! What would be a huge leap out of my comfort zone?!" Enter broccoli! This was actually my favourite juice I tried and is the perfect punch for women: energy-boosting from the broccoli, spinach and lemon, supports PMS with broccoli, cucumber, spinach, lemon and pineapple and is beneficial for weight-loss due to the broccoli, cucumber, lemon and pineapple. What goddess wouldn't love this combo?!
If you are in the market for a new juicer, there are two main types of juicers you should be aware of: Centrifugal and Masticating/Slow juicers. A centrifugal juicer uses high speed and centrifugal force to separate the juice and the pulp. A bit of oxygen is introduced and a small amount of heat is generated with this type of juicer. It has been said that the heat and oxidation destroys some of the live enzymes in the juice. The masticating juicer, or slow juicer, extracts the juice by slowly crushing and pressing the fruit or vegetable then applying pressure to separate the juice from the pulp. Even though you get a bit more pulp with this type of juicer, it retains all the nutrients from the ingredients and is much more quiet than the centrifugal juicer. Personally, I have had both and I love my masticating juicer. I found it easier to clean than the centrifugal juicer and the pulp wasn't too much of a drawback. Here is a great website that compares various juicers if you want more information: best juicer review guide I use a Hurom juicer, which you can learn more about here.
BASIC JUICING GUIDELINES:
Thoroughly wash your fruits and vegetables to get rid of any bacteria or fungi. An organic vegetable/fruit wash and a soft bristle brush should do the trick.
Buy organic when possible. The quality of your juice is only as good as the produce you purchase.
Consume as soon as possible after juicing. If you can't drink it right away, keep the juice in an air-tight container for up to 24 hours.
So… lesson learned: only do a juice cleanse when you are mentally prepared! During times of stress probably isn't the best time to embark on such a brain-draining endeavor! Until I try this again, I will continue with my occasional therapeutic juice and keep the brain-food flowing.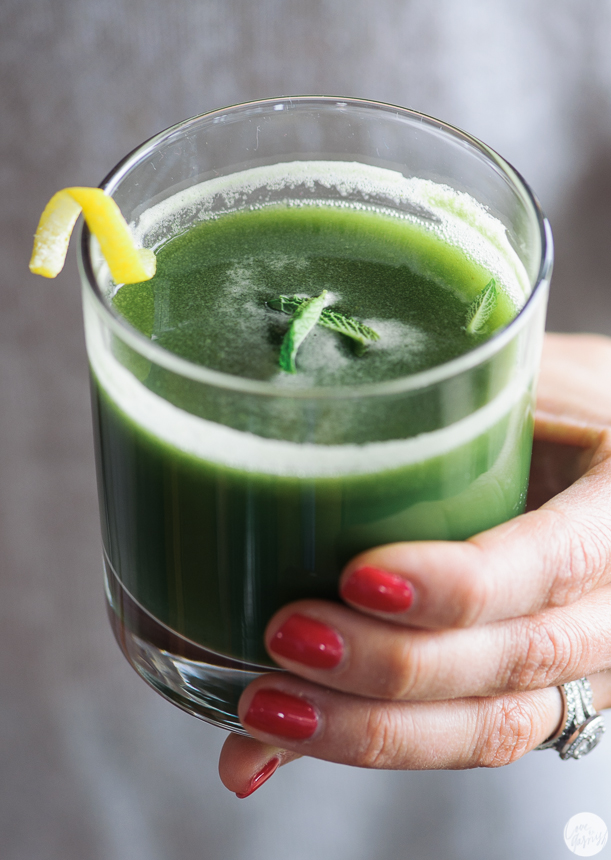 Green Goddess Juice: broccoli, pineapple, cucumber
2014-05-04 19:52:36
Serves 1
Ingredients
2 cups pineapple, cut into chunks (1/2 a small pineapple)
1 1/2 cups broccoli, cut into chunks
1 large cucumber, sliced
3 handfuls of spinach
1 handful of mint
1 lemon, juice reserved
Instructions
In a juicer, juice all of the ingredients based on your juicers instructions. Add the reserved lemon juice. Enjoy immediately!
Love & Garnish — A Nourishing Kitchen http://loveandgarnish.com/