I'm baaaaaack!!!! It was a long couple of months, but my final certification for Holistic Nutritionist, R.H.N., is finally over and that means "Love and Garnish" is back up and running! Its a bit bittersweet: completing this wild journey through school again. I love being in school and learning new things, especially when they are of such interest to me. And even though I had plenty of moments when the house chores were piling up and I didn't think I could squeeze one more ounce of information into my brain or find the time to read another book, I wouldn't have changed anything in the past year. Ok, maybe spending more time with my hubby and puppy, but thats about it! Even though this era of school is over, the learning aspect is never over. I can't wait to continue this journey on my own and see where this education takes me and "Love and Garnish". I have some exciting plans and can't wait to see them come to life!
Now, the end of an era calls for a celebration…and every celebration deserves cake! Since I've been craving ice cream in the scorching heat we're experiencing in Calgary, a raspberry-basil frozen yogurt cake seems right up my alley. And I think you'll love how easy it is to make!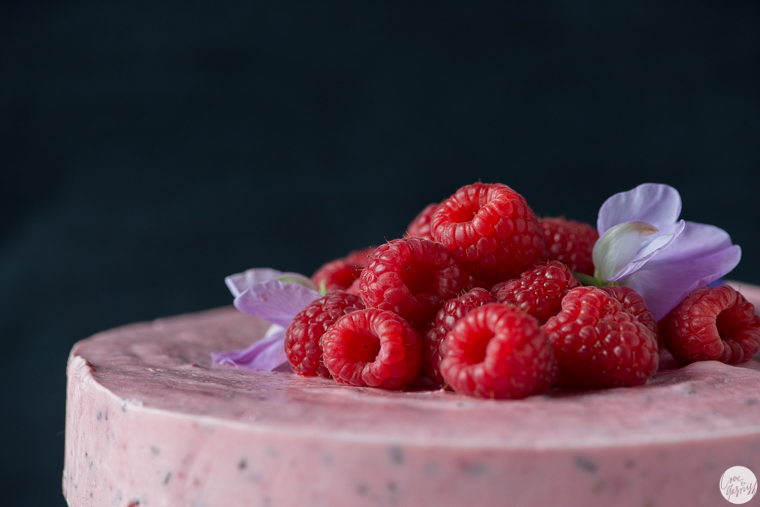 One of the most mind-opening things I learned in school is the importance of whole-foods…even butter and eggs. I used to buy vegan butter and eat only egg-whites – until I took this course. Real organic, grass-fed butter is very different than chemically processed margarine or any kind of fake butter. Real food, like butter and eggs, has synergistic nutrients made by nature that work together in your body for a purpose. As soon as its chemically processed (like margarine, for example), the molecules change into chemicals and damage is done to our body when we consume these fake foods. I don't use butter often, because everything in moderation, especially saturated fats, but when I bake, I often use butter or ghee. Butter is a saturated fat and withholds the high heat of the oven without going rancid; something olive oil and other polyunsaturated fats can't do. Eggs on the other hand, are a powerhouse of nutrients! They contain all the essential amino acids, making them a complete protein. They also have all the fat-soluble vitamins A, D, E and K, as well as a very special nutrient "choline". Choline, found in the yolk, is imperative for the proper functioning of our nervous system and also helps rid the body of cholesterol. Yep, you heard me! Eggs are beneficial for lowering cholesterol! So don't be scared of butter and eggs because they are whole-foods that aren't chemically modified. I'm not saying eat butter everyday, but organic, grass-fed butter, especially local and fresh butter, won't hurt from time to time. You never want a diet high in saturated fats, but when you do cook with them, choose organic, grass-fed if possible. In this recipe I used "ghee" which is clarified butter: pure fat with the milk solids removed. This is a great option for people who are lactose intolerant. The East Indians actually believe this is the high-quality form of butter.
I'm telling you, this recipe is so easy, you have to give it a try! Even if your a horrible baker like me, with the tips I provided below (thanks to my sister-in-law the baker!!), you'll knock this out in a pinch!
So happy to be back! xoxo


Raspberry Ice Dream Cake: basil, rose water & lemon
2014-07-31 22:58:19
GROCERY LIST
*You will need 2 8-inch spring-form pans
Raspberry Basil Ice Dream
2 ¼ cups raspberries (approximately 2 small containers of raspberries)
975 g thick Greek yogurt (approximately 1 ½ large containers of yogurt)
1/3 cup honey
40 medium or large fresh basil leaves
extra raspberries for garnish
edible flowers for garnish (optional)
Rose water, lemon poppyseed cake
4 1/4 cups almond flour/meal
2 1/2 Tablespoons poppy seeds (optional)
1 teaspoon baking powder
1/2 teaspoon salt
1/2 teaspoon baking soda
3 large eggs
1/2 cup softened ghee
*
1/2 cup softened honey*
juice from 2 lemons
zest from 1 lemon
¼ teaspoon rose water (optional, but recommended if you can find it!)
Instructions
Preheat oven to 350.
Ice Dream
Blanch 40 basil leaves in boiling water for 2 minutes. Immediately transfer to a bowl of ice water for one minute. Remove basil and squeeze out excess water. Transfer to a food processor or blender. Add raspberries and honey and blend until pureed and blended well. Transfer to a bowl and gently fold in yogurt. Pour the yogurt mixture into a pre-greased 8-inch spring-form pan (grease with ghee/butter or coconut oil) and place in the freezer for 2 hours.
Cake
In a large bowl, mix together the wet ingredients: eggs, ghee, honey, lemon juice, lemon zest and rose water. In a separate bowl, mix together dry ingredients: almond flour, poppy seeds, baking powder, salt and baking soda. Sift dry ingredients in a sieve and then gently mix into the wet ingredients. Be careful not to stir too much. Oil an 8-inch spring-form pan with ghee and pour cake mixture into the spring form pan. Bake at 350 for 35-40 minutes. Do not open the oven during the cooking process. Check at 35-40 minutes to ensure it bounces back when you poke it. If so, it is done.
After the cake has cooled and the ice dream has set, remove both from the spring-form pans. Set the ice dream portion on top of the cake portion and top with the extra berries and edible flowers. Cut as soon as possible or you'll have a runny middle!
Notes
*You may have to gently heat the ghee and honey over low-heat to soften so as not to create clumps in the mixture.
Love & Garnish — A Nourishing Kitchen http://loveandgarnish.com/