Meet your new favourite veggie burger, just in time for Labor Day! A while back a classmate asked me if I had any good recipes for veggies burgers. "Why no, no I don't! But I WILL!" I have been working to perfect the ultimate veggie burger over the past couple of weeks and I think I finally nailed it: protein-packed, veggies and herbs that give a blast of flavor, and a consistency that every veggie-burger experimenter strives for. I must say, I'm pretty happy with how this turned out. The tofu and mushrooms offer a wonderful smoky flavor and the tempeh gives a lovely chewy texture while the beets provides a hint of sweetness. Topped with my spicy cherry tomato jam, these are heaven in your mouth and a sweet ode to summer vegetables!
If you have never tried tempeh, its an interesting protein that deserves a chance in your kitchen. Tempeh originated in Indonesia and is made from the whole soybean, normally with blended grains. This means tempeh is much higher in fibre than other soy products but is also high in protein. This mixture is then fermented, giving it a nutty flavor with a hint of mushroom essence. If there are grey or dark spots on the tempeh, don't fear: this isn't spoilage, but the healthy bacteria hard at work for your gut health. The beauty of soy products like tofu and tempeh is that they take on whatever flavor you cook them in, so season liberally and don't be afraid to cook with adventurous spices.
I've served these veggie burgers over fresh pumpkin seed buns I found at the local market but feel free to use whatever bread you find or make; you can even try them with a collard green or butter lettuce wrap. The chipotle tomato jam was actually a last minute addition. As I tried my second….ok, third, veggie burger, I realized it needed something saucy with a bite. Thanks to all my fresh cherry tomatoes, this tomato chipotle jam rocked the burger to a new level! The topping ideas are endless so jazz these babies up whichever way you like: fresh cucumber slices, cashew cheese, sprouts, arugula or muenster cheese. Your only problem will be how to stop eating these things!
If you haven't tried any of Love and Garnish's recipes yet…this is the one to try. I promise you won't regret it! Make a huge batch, because they won't last long, especially if you are taking them to a Labor Day BBQ!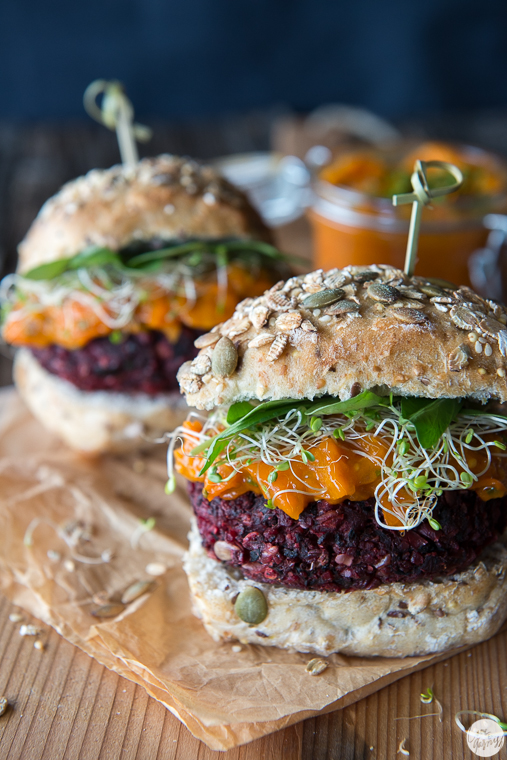 The Divine Veggie Burger: beets, shiitake and a chipotle tomato jam
2014-08-25 21:52:51
Serves 4
VEGGIE BURGERS
3 cups shiitake mushrooms
2 cups shredded beets (approximately 3 medium beets)
1 egg, beaten OR 1 Tablespoon chia seeds
½ package of smoked tofu (approximately 110 grams)
½ cup crumbled tempeh
3 Tablespoons sunflower seeds
1 teaspoon Braggs liquid aminos or Tamari (if you can't find either of these, soy sauce will work)
1 ½ teaspoons fresh lemon juice
½ teaspoon cumin
¼ teaspoon toasted and ground fennel seeds*
1/8 teaspoon smoked paprika
2 pinches of salt + few cracks of pepper
3 Tablespoons chopped fresh oregano
1 sundried tomato, chopped
4 cloves of garlic, chopped
4-5 buns or lettuce for lettuce wraps
Optional toppings
arugula
cashew cheese
cucumbers
pea shoots
avocado
shredded carrots
pickled red onion
sprouts
cheese
CHIPOTLE TOMATO JAM
2 Tablespoons coconut oil
3 Tablespoons minced red onion
1 pint cherry tomatoes, some cut in half, some quartered
pinch of red pepper flakes
*small amount of sauce from "Chipotle Peppers in Adobe Sauce"
½ Tablespoon maple syrup
1 Tablespoon red wine vinegar
1 Tablespoon fresh chopped chives
pinch of salt + few cracks of pepper
DIRECTIONS FOR THE VEGGIE BURGERS
Preheat oven to 350.
Arrange the shredded beets and shiitake mushrooms on a baking sheet in a single layer. Bake at 350 for 15 minutes then remove the beets. Continue baking the mushrooms for another 20 minutes. Remove from the oven and let cool.
While the veggies are roasting, if you are not using an egg, prepare the chia seeds. In a small bowl, combine the chia seeds and 3 Tablespoons of pure water. Let the chia seeds rest for 20 minutes.
Place the smoked tofu in a food processor. Pulse until crumbled well with no large chunks, but not mushy. Remove and place in a large bowl. Add the crumbled tempeh, sunflower seeds, Braggs liquid aminos, lemon juice, cumin, fennel seeds, smoked paprika, salt and pepper to the bowl.
In the food processor, add the shiitake mushrooms, beets, fresh oregano, sundried tomato and garlic and pulse until well combined and crumbled but not mushy. Add this mixture to the bowl with the other ingredients. Mix well with your hands until well combined. Add the beaten egg or chia seeds and mix one more time with your hands.
Form into patties, place on the baking sheet you used for the vegetables and bake at 350 for 15-20 minutes (depending on how thick you make the patties).
While the veggie burgers are baking, prepare the chipotle tomato jam.
Check the burgers after 15 minutes; if they are hot throughout, remove from the oven and assemble your burgers.
DIRECTIONS FOR THE CHIPOTLE TOMATO JAM
In a non-stick pan over medium heat, sauté the red onion and coconut oil for 3-4 minutes until the onions are soft. Add the cherry tomatoes, red pepper flakes, adobe sauce and maple syrup. Cook for 15 minutes, stirring occasionally, or until the tomatoes have cooked down and the sauce has thickened. (Taste while cooking and add more red pepper flakes or chipotle sauce based on your liking). Remove from the heat, add red wine vinegar, chives, salt and pepper. Stir, taste and season if necessary. Keep in a air-tight jar up to 7 days.
Notes
*To toast and grind your fennel seeds: add the fennel seeds to a skillet and toast over low-medium heat for a few minutes until fragrant (be careful not to burn). Place in a mortar and pestle and crush until very fine.
*"Chipotle Peppers in Adobe Sauce" are extremely spicy. I used a very small amount of the sauce from the can (no seeds, no pepper, only sauce) in this recipe. I basically dipped my spoon in twice and only used what was on the spoon. If you can't find "Chipotle Peppers in Adobe Sauce" then extra red pepper flakes will work, however, they do give a wonderful smoky flavour! They are normally found near the mexican/ethnic section or by the tomatoes.
Love & Garnish — A Nourishing Kitchen http://loveandgarnish.com/