In my husband's eyes, there is only one kind of Christmas cookie. "Hun, I'm making cookies…what kind do you want?". I should have known better than to ask my husband. How do I put this politely….he is an old soul…a "vanilla" kind of guy. I knew the answer. "Ginger Molasses Cookies!! And NOT the healthy kind!". Haha, well we know that wasn't going to happen!
The cookies actually weren't just for my husband's tummy. My friend and I were baking up a few batches for the local Women and Children's Shelter. It was an afternoon of girl time, soul-deepening conversation, homemade vegan eggnog, and Christmas music. What better way to get into the holiday spirit than giving back to your local community?!
The funny thing about this recipe (and experience for that matter) is that we didn't just make my husband's favourite holiday cookie for him and the women's shelter. I also wanted to make an oooey-gooey chocolate cookie for myself and the ladies. As I've said before, baking is not my forte, let alone baking with whole food sugar options, gluten free flours and butter substitutes. After the ginger molasses cookies were baked and cooling (looking back at us with their cute little vegan cream cheese smiles), I began trying to pull a chocolate chip cookie recipe out of thin air. "How hard can it be?!", I thought?! Well, after the first fail, then the second fail, then the THIRD fail, I pretty much gave up for the day. We packed up the cookies that were edible and I decided I would just blog about the ginger molasses cookies. Until I woke up the next day with a fire under me and thought "I will nail this damn cookie!". I have never researched food recipes and baking chemistry so much in my life! But I was determined! What turned out, is something, I must say, I am pretty proud of! I am so glad I went back to the drawing board because now I am so proud to share this recipe with you guys! And just in time to join the others on the way to the shelter!
WHOLE FOOD SWEETENERS
Your probably thinking "How are these cookies nourishing?!". They are nourishing for the soul! You know you want a bit of chocolate, so have a cookie! These are made with whole food ingredients like maple syrup, oat flour, coconut oil, and free range eggs, so you won't feel like you want to go back for a third and a fourth and maybe a fifth cookie. By using whole food ingredients like these, you become fuller, quicker and by using a whole food source of sugar (maple syrup) you won't have those white sugar cravings you get after processed cookies and sweets. Maple syrup even helps decrease inflammation and contains potassium, vitamin B2 and manganese. To top it off, the coconut oil is metabolism-boosting and has the ideal nutrient balance for stable energy and mood.
MY FRIEND, DARK CHOCOLATE
I doubt I need to convince you of reasons to eat dark chocolate, but even though this is a decadent treat, there are many health benefits! You've probably heard that chocolate is rich in antioxidants, but the specific antioxidants are called "flavonoids". Flavonoids are plant pigments that directly reduce inflammation, protect the lining of arteries, block free radical damage in the body and help prevent cancer. Flavonoids also have tissue-protective properties. The key flavonoid "procyanidins" can make up to 48% of the dry weight of the cacao bean!
The growing amount of research on the topic of chocolate and its effect on heart disease reveals that even though it has some saturated fat, the saturated fat does not elevate cholesterol levels. Could this be because true cacao saturated fat is derived from cacao butter?! Cacao butter, which according to government standards, must constitute the fat content in true chocolate (not milk chocolate!). Cacao butter contains plant sterols which have been shown to compete with cholesterol for absorption in the gut.
All that in these cookies?! Pretty sweet!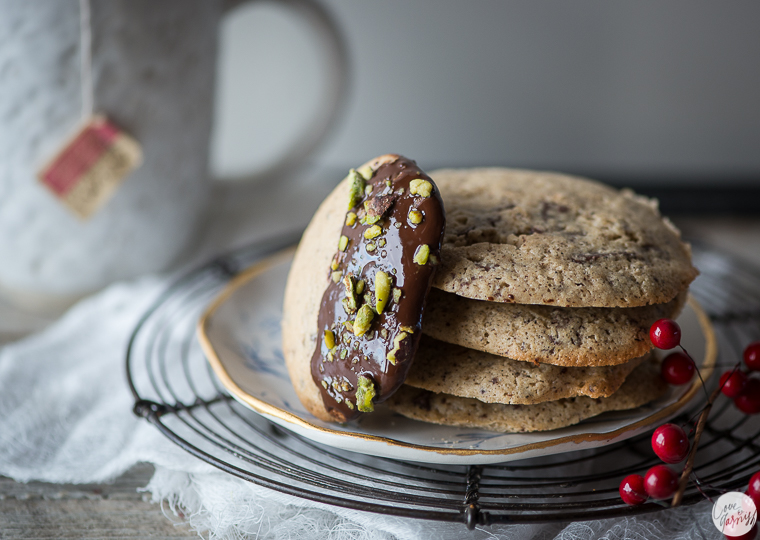 Dipped Dark Chocolate Peppermint Cookies with Pistachios
2014-12-17 19:42:45
GROCERY LIST
1/2 cup gluten free, oat flour
1/4 cup + 3 Tablespoons potato starch
1/4 cup almond flour/meal
1/2 Tablespoon arrowroot powder
1 teaspoon pure vanilla powder
1/4 teaspoon baking powder
1/8 teaspoon salt
6 Tablespoons maple syrup
1/4 cup coconut oil, melted
1 free range, organic egg
1/4 teaspoon peppermint extract + 1 teaspoon
1 bar of organic, free trade, peppermint dark chocolate (85 grams), crumbled
1/2 cup organic, free trade, dark chocolate chips
2 Tablespoons of pistachios, shelled and crushed into chunks
Instructions
Preheat oven to 350 and line a baking sheet with parchment paper. Set aside.
In a small bowl, mix together oat flour, potato starch, almond flour, arrowroot powder, baking powder, salt and vanilla powder. Set aside.
In a second small bowl, whisk together maple syrup, melted coconut oil, egg and 1/4 teaspoon peppermint extract.
Mix the dry ingredients into the wet ingredients and drop a spoonful of the cookie mixture onto the parchment lined baking sheet. Bake at 350 for 10 minutes.
Remove from the oven and transfer to a cooling rack.
While the cookies cool, melt the dark chocolate chips and 1 teaspoon of peppermint extract using a double broiler method. Dip the cooled cookies into the melted chocolate, lay back on the parchment paper and sprinkle with pistachios. Repeat dipping the cookies with all cookies and allow to cool for 1 hour.
Love & Garnish — A Nourishing Kitchen http://loveandgarnish.com/