"Is this for real?!?! Is this really happeneing?!". As my eyes blinked in shock, I realized I was looking at some of my best friends from back home! There, in my living room, stood 3 of my favorite girlfriends, in the flesh! They had flown in to surprise me for Knox's baby shower (my husband is a great secret keeper!). Thats the thing about my group of friends from back home: we always make an effort, no matter how difficult it is or how far we are. And it meant the world to me that they made it all the way to Canada to meet baby Knox.
As I entered the hectic house after a morning at the hair salon, friends from all over were hustling and bustling getting the house ready for Knox's shower. Two of my best friends were hosting and had thought of every detail, from the cupcake toppers, photo banners, "Wishes for Baby" cards, beautiful flower arrangements and even an outdoors themed healthy carrot and zucchini cake! My friend even made personalized accents like the "Knox the Brave" frame below. It was so touching that everyone had put so much effort into the occasion!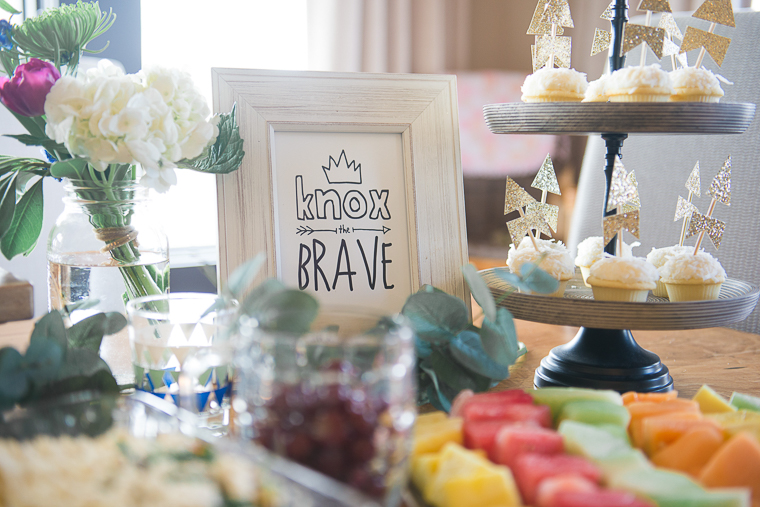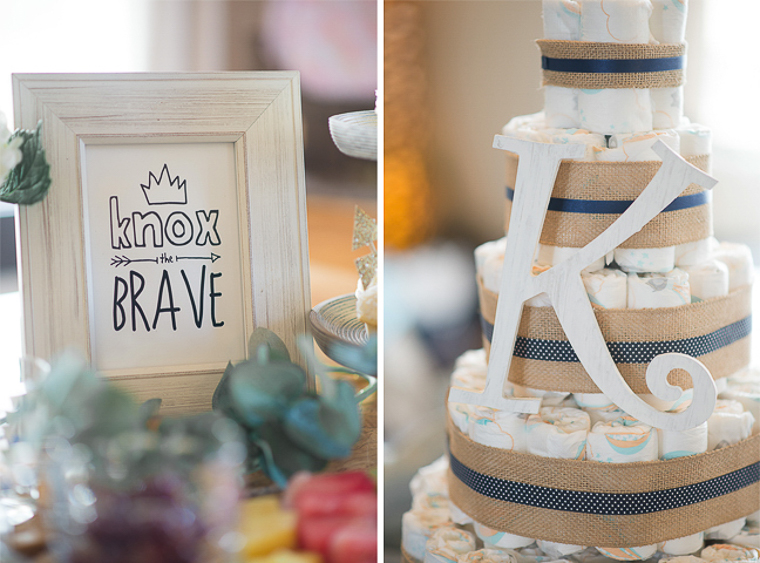 *BABY SHOWER PHOTOS BY LOOKTWICE PHOTOGRAPHY
I didn't want a traditional baby shower before Knox was born, but a fun afternoon where everyone could meet baby Knox and have a few cocktails. For the occasion, I made a healthy version of a kale caesar salad. I know, I know… this has been done many times before. Kale salads and Kale caesars have been overdone lately it seems, however, there is something addicting about this one! Even my friend from Alabama texted me when she got home and said "I'm craving that kale salad!! What's the recipe?! Can you believe I'm saying that?!". Well yes, yes I can! I've made it three times in the past two weeks, so I totally get it! It's bad enough that the garlic chickpea "croutons" get eaten before they even make it onto the salad, but the dressing is light, refreshing and surprisingly reminiscent of the original due to the umami flavour of the miso.
I'll go ahead and say "your welcome" now because this will be one for the books. 😉
Thank you for all the love at Knox's shower and the details you all put into it. I still can't believe you ladies flew all the way to Canada to surprise me and to make it an extra special occasion!


Kale Caesar with Garlicky Chickpea Croutons
2015-04-29 23:17:53
CHICKPEAS
1, 16 oz can of chickpeas
1 Tablespoon coconut oil
1/2 teaspoon sea salt
1/2 teaspoon garlic powder
generous amount of fresh cracked pepper
SALAD
2 bunches of kale, washed, stems removed and roughly chopped
1/2 teaspoon of sea salt
1 small head of radicchio, shredded on a mandolin or box grater
parmesan cheese, sliced on a box grater, for garnish
DRESSING
3 large cloves of garlic
juice from 1 lemon (approximately 1/4 cup)
1/2 cup fresh parsley, tightly packed
1 1/2 Tablespoons dark miso
1 teaspoon Dijon mustard
1/2 teaspoon Worcestershire
1/4 cup olive oil
Instructions
Preheat oven to 400.
Drain chickpeas and lay on a large baking sheet so they are in a single layer. Pat dry. Add the coconut oil and place the baking sheet in the oven to melt the coconut oil, about 1 minute. Remove from the oven and stir together the coconut oil and chickpeas and add the salt, garlic powder and freshly cracked pepper. Bake in the oven at 400 F for 10 minutes, stir, then bake for another 10 minutes. Remove and set aside.
While the chickpeas cook, prepare the dressing
In a food processor, combine the garlic, lemon juice, parsley, miso, dijon mustard and Worcestershire. Blend until well combined. While the food processor is running, add the olive oil slowly. Store the dressing in a mason jar or an air-tight container; will keep for a week. Set aside.
Prepare the salad
In a large bowl, combine chopped kale and the 1/2 teaspoon of sea salt and "massage"* the kale until it is wilted and soft. Add the radicchio, chickpeas, and half the dressing. Toss to combine; add more dressing if you like. Garnish with parmesan cheese
Notes
*To "massage" the kale, basically "scrunch" the kale with the salt between your hands
Love & Garnish — A Nourishing Kitchen http://loveandgarnish.com/