I stumbled in the door at 730 am, a dreary baby on my shoulder and an equally tired brain, barely thinking straight. The sun had been up for an hour now, yet I had been up since midnight. My son, still half asleep, lets out a croupy cough, and gently laid his head back on my shoulder. "Its night-night time, ok?", hoping to convince him that even though it was light out, we both needed to get some sleep. I laid him in his crib, planted a kiss on his forehead and turned off the lights. Finally. A sleeping baby and a nice comfy bed for myself.
Lately, my son has been catching everything it seems like: bronchiolitis, flu, hand-foot-mouth-disease, and now croup. His breathing had become labored in the night, so much so, that I had to take him into the local Children's Hospital. Thankfully my mother was visiting and I was able to catch up on sleep the next morning while Knox decided he didn't need to. It really does take a village, doesn't it?!
When I finally awoke, I needed some quick fuel to get me through the rest of this day. I actually already had this succotash in the fridge from last nights dinner (with grilled halibut), so in my sleepy but ravished stupor, the leftovers turned into a salsa verde succotash and it was combined with all the goodness you see below. The high protein and healthy fat content coupled with the carbs from the veg, helped keep me going through the long afternoon.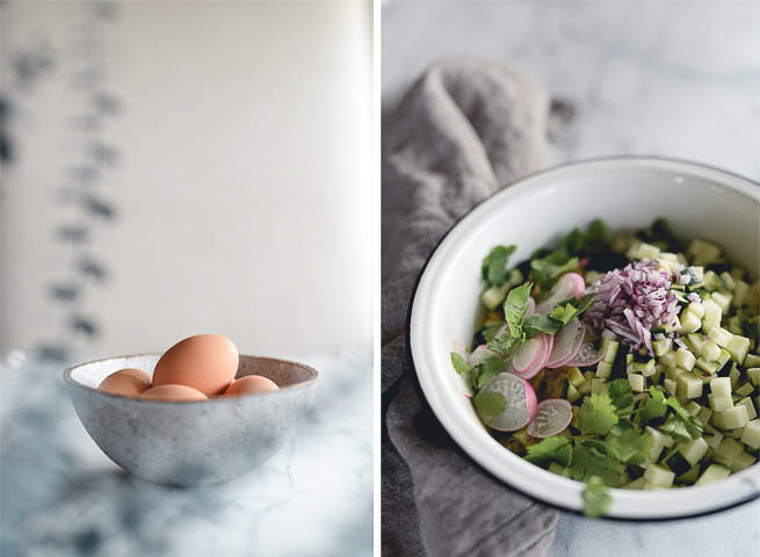 This was so delish, I ended up having it for dinner the next night. Sometimes the best things come from a mish-mash of whats in your fridge!
---
Spring Salsa Verde Tostadas with Zucchini Succotash, Radish, and Avocado
Serves 4
Ingredients:
Succotash: (this will make enough for 4-6 tostadas, depending on the size of your tortillas and the amount you prefer on each one)
1 Tablespoon coconut oil
1/4 cup minced red onion
3/4 cup corn kernels (thawed if frozen, preferably fresh)
2 cups cubed zucchini
3/4 cup cooked black beans
1/2 pint cherry tomatoes, quartered
1/3 cup salsa verde (I love Tres Maria brand)
Tostadas:
4-6 small whole grain tortillas such as Tres Maria's "Navy Bean and Flax" or "Brown Rice and Navy Bean"*
4-6 eggs
2 avocados, sliced
cilantro to garnish
radish slices to garnish
Directions:
Preheat oven to 250F.
In a medium skillet, over medium-low heat, warm the coconut oil and add the onion and corn. Saute over low heat until the onion is soft. Add the zucchini and black beans and continue to sauté until the zucchini is tender; about 2-3 minutes. Add the cherry tomatoes, stir and allow the tomatoes to soften a bit but not break. Remove from the heat and stir in the salsa verde. Set aside.
In a non-stick pan or skillet, warm a bit of coconut oil over medium heat. Warm each tortilla on both sides until brown. Set aside. You can transfer to the oven to keep warm.
Add a bit more coconut oil in the pan, crack an egg or two (depending on the size of your pan) and cover. Let the egg cook to your liking (I love a runny egg!) and set aside.
Assemble the tostadas: Place a warm tortilla on each plate, top with zucchini succotash, a fried egg, avocado slices, radish, and cilantro.
*no this is not an ad for Tres Maria's! I just really like their products!