Well, wouldn't you know – another blog post on food from my travels! I love traveling: the adventure of meeting new people, exploring new places and of course discovering the culinary treasures of each city. If there is a career where I can travel with my dog and husband and eat through every city I visit, someone please alert me immediately.
I recently made a trip to Seattle to join 15 other individuals on the quest to take the perfect food photo. This particular food photography workshop was with Ashley Rodriquez of Not Without Salt and Gabe Rodriguez: the talented and hilarious married duo specializing in food and wedding photography. This trip was definitely one of the most inspiring trips I have taken. Aran of Cannelle et Vanille hosted us at her beautiful, new white-washed studio, showering us with homemade lunches and pistachio hot chocolate. Ashley and Gabe were so inspiring and knowledgeable and truly took the time to help each one of us hone in on our own style of photography. Here are a few from shots the weekend.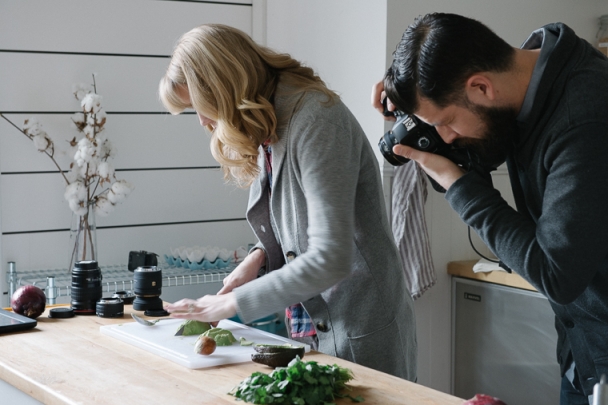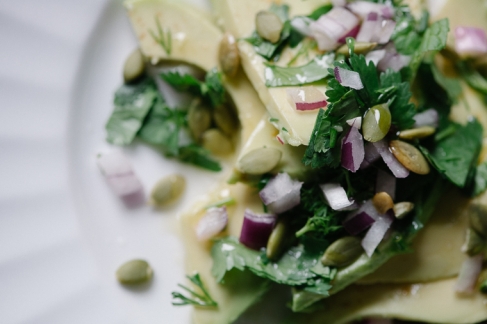 If you have read my previous posts, you know that I always plan the restaurants I want to visit before I travel to a new place. There was just one problem with Seattle: I only had 3 days to hit up over 25 different restaurants! Crap! From "Mamnoon" and "How to Cook a Wolf", to more simple venues like "Sitka and Spruce" and "Delancey", there were just too many tempting options and not enough time. However, you wouldn't believe my surprise when I arrived at my last dinner reservation, only to find that two of the restaurants I wanted to visit were right next door to one another! Jackpot! Two dinners it is! Before my actual dinner reservation began, I snuck into the one on the right, "The Whale Wins", and ordered a drink and an appie: a lemonade with local celery soda and a sardine tartine with shaved fennel and curried tomato paste. Yes, sardines! I was skeptical but had seen them on every menu in Seattle and thought "They are on every menu and I need to know why! This is my last chance to try them!" Well, I did, and they were amazing! I can now say I enjoy eating sardines – at least in Seattle!
Next, onto "Joule": an eclectic, hip, Asian-fusion restaurant. This particular restaurant had been featured in Bon Appetit magazine and I had been dying to visit for a quite sometime. I planted myself at the kitchen bar to ensure front row entertainment. I finally decide on the Chinese broccoli with walnut pesto and roasted garlic as well as the roasted sunchokes with peanut sauce. To the man who sat next to me on the plane that night: I'm sorry you had to smell my leftovers without tasting how amazing they were. Again, I made a mental note to recreate both these dishes when I returned home.
My version of Joule's Chinese broccoli is a tad different, but I love using walnuts and red chilli flakes with broccoli rabe. The ingredients in this pesto (walnuts, basil, olive oil, garlic and lemon) are broccoli rabe's best friends, but pesto is so versatile so try adding it to any of your favorite veggies. The recipe below will make enough for the broccoli rabe as well as a sandwhich spread, omelette-enhancer, quinoa flavor-booster, a topping for your brown rice pasta or even mixed with some beets and orange segments.
This pesto is an amazing nutrient-rich combo. Walnuts are a great source of Omega 3 polyunsaturated fats (see my Lifestyle Lowdown page for more details) which lower blood cholesterol and help alleviate PMS. Arugula is an alkalizing food and the fresh lemon and garlic help to detoxify the liver. And who can say no to more green vegetables?! Full of vitamins and minerals while rich in iron and calcium, green vegetables are always on my plate. They have been shown to lower blood-pressure and provide antioxidants that fight free radicals in the body. For the vegans out there, this is a dairy-free pesto, so go to town! However, if you aren't vegan or dairy intolerant, feel free to add a sprinkle of salty cheese like parmesan or piave to the finished dish.
Thank you Seattle for the wonderful memories, new friends, photography inspiration and food I will never forget!

Broccoli Rabe: walnut pesto, red chilli flakes, lemon
2014-02-27 21:26:26
Serves 4
Walnut and arugula pesto
2/3 cup raw walnuts
2/3 cup loose packed basil
¾ cup loose packed arugula
2 garlic cloves, chopped
2 Tablespoons lemon juice (approximately juice from 1 lemon)
1/8 teaspoon of sea salt
7 Tablespoons of extra virgin olive oil, divided
Broccoli Rabe
1 bunch of broccoli rabe or broccolini
large pinch of salt
1 Tablespoon of coconut oil
2 pinches of red pepper flakes (or more depending on your taste)
½ cup of cherry tomatoes, cut in half
lemon zest to garnish (zest the lemon above before juicing it)
DIRECTIONS
In a food processor, combine walnuts, basil, arugula, garlic, lemon juice, sea salt and 1 tablespoon of extra virgin olive oil; blend until well combined. Transfer to a bowl and stir in the remaining 6 tablespoons of extra virgin olive oil until well combined. Set aside.
In a non-stick sauté pan, add broccoli rabe, a large pinch of salt, water to cover and cover with a lid; steam for 2 minutes over medium high heat. Drain the water and add the coconut oil and red chilli flakes to the pan with the broccoli rabe. Saute over medium heat for 3 minutes, stirring occasionally. Add the tomatoes and 3-4 tablespoons of the pesto and sauté for another 2 minutes. Transfer to a plate and garnish with lemon zest.
Notes
Pesto may be kept in a jar with a tight-fitting lid in the fridge up to 5-7 days or 3-4 months in the freezer.
Love & Garnish — A Nourishing Kitchen http://loveandgarnish.com/