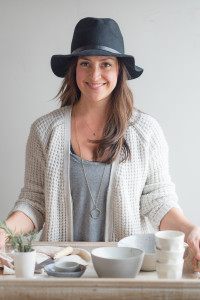 WELCOME
Hi there! I'm Anise, the food-obsessed, health-nut behind Love & Garnish.
I began this blog as a way to share my passion for beautiful, exciting and nourishing food while demonstrating that healthy food doesn't have to be bland or boring. And a little chocolate cake every now and then won't hurt either!
I believe in plant-based, whole-food recipes that focus on delicious and nourishing ingredients so you can love yourself and your food. Most of the food I cook is vegetarian or vegan with an emphasis on natural, unprocessed ingredients.
With a passion for food, health and travel, I quit my marketing job last year to go back to school for my passion: food and holistic health. I graduated from the Canadian School of Holistic Nutrition in July of 2014 and am excited to see where the education takes me in the upcoming years!
Healthy food choices are a beautiful way to love ourselves and our bodies, and by choosing whole, clean foods we are giving ourselves and our families the best gift—a long, happy and healthy life!
I hope you find inspiration among these pages to try some new recipes, lead a healthier lifestyle, and become a happier you by loving your body and mind with nutritious choices.
Much love, Anise
"Let food be thy medicine and medicine be thy food" – Hippocrates



FAQ
WHAT EXACTLY DOES "HOLISTIC" MEAN?
Holistic nutrition is a way of reaching optimum health by balancing the body systems via natural sources. Holistic principles take into account the mental, physical, environmental and emotional factors pertaining to each individual's health. Every person's biochemical makeup is different so why should we all follow the same food guide or same fitness routine? The key to optimum health is finding foods that enhance each person's well-being while looking at the person as a whole: mind, body and spirit.
WHAT IS YOUR CULINARY BACKGROUND?
No professional training, only a love for food and a passion for sharing! I grew up in a family that loved to cook so it comes naturally to spend a Sunday cooking up a storm in the kitchen.
WHAT IS YOUR NUTRITION BACKGROUND?
I have always been interested in the health benefits of food and the effects food can have on our minds and bodies. My food philosophy has definitely evolved since I moved to Canada in 2008 and I've become even more absorbed in the topic since moving here. So, in August of 2013, I began classes at the Canadian School of Natural Nutrition in Calgary and graduated with an R.H.N, Holistic Nutrition designation in July of 2014.
WHERE DO YOU FIND FOOD INSPIRATION?
Honestly, everywhere! From the farmers market to revamping an old family favorite to other like-minded food bloggers…. I'm constantly thinking of new things to cook! Just ask the guy beside me on the plane as he watches me write my next idea on a napkin.
WHAT CAMERA DO YOU USE?
I'm a Nikon girl and currently use a Nikon D610. I also use the 5o mm f1.4 lens , the micro 105 mm f2.8 lens, and the 24-70 mm f2.8 lens.
WHAT ARE YOUR FAVORITE FOODS?
What isn't my favorite food?! Ask my family…I love everything – except pickles! But if I had to give a list: brown rice pasta, hummus, salmon when on the west coast of Canada, fresh ahi tuna when I'm back home in Mobile or in Hawaii, swiss chard, kale (basically all green leafy vegetables!), cashew cheese, Mary's organic crackers, dark chocolate, blueberries, Asian and Italian flavors, tiramisu, and Cajun shrimp and grits from my home town, Mobile, AL!
portrait photography by my dear friend at look twice photography