Well that vacation went by way too fast! How does that always happen?! One minute I'm waking up in Maui for a beach run, sun shining, the sound of waves crashing, the next minute I'm waking up to snow and grey skies, not wanting to get out of bed. Even though the trip went by far too quickly, I came back with amazing memories, a quiet mind, a motivated spirit and lots of food inspiration!
I had big plans for my first travel blog post in Maui, but alas, life doesn't always go as you plan! If you follow me on Facebook, you know my camera stopped working as soon as I landed in Maui so I wasn't able to take any photos for a blog post while on vacation. Seriously?! Maybe it was a sign from the universe that I needed a true break: no studying, school work, or blogging. However, I wanted to share some photos from the beautiful island, so I have put together a few from my iPhone below. Check out my Instagram account for more!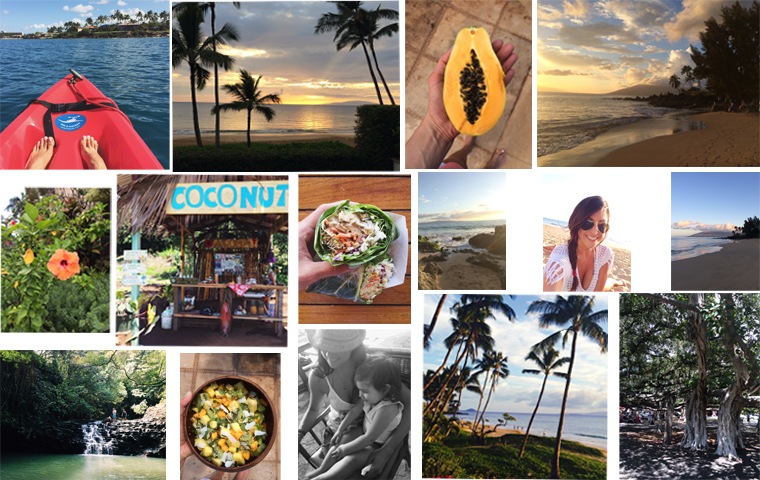 One day, a few of us took a day-trip to Paia on the north shore of Maui and continued on the road to Hana to "Twin Falls". On the way to Twin Falls, we came across an adorable, local, fresh fruit and banana bread stand (in the collage above). STOP! I loaded up on homemade jams, banana bread and plenty of candied-coconut samples. As we were driving back, I had to dig in. The combination of the banana bread with the local lilikoi jam was so amazing! I know you probably can't get fresh, Hawaiian, lilikoi jam but I had to share the banana bread with you when I returned home.
I should have named this post "Almost Banana Bread French Toast", because that was my original plan – but again, life doesn't always go as you plan (Are we seeing a pattern here?!). I came back from vacation in a frenzy to get caught up and thought, "Banana bread: can't be that tough! I'll just whip it up tonight then photograph it tomorrow after my school exam." Haha…yeah right! After a couple of tries and a whole carton of eggs, I finally landed the perfect banana bread! Unfortunately, after all my experimenting, I was out of eggs. Bye-bye french toast! Even though I couldn't provide a photo of the banana bread french toast, I urge you to give it a try! In an egg and milk mixture, add a bit of nutmeg and dunk slices of the banana bread in the egg mixture. Cook in a pan as you would regular french toast, top with sliced bananas, walnuts and dab of jam, nut butter, or maple syrup. Oh man, I need some eggs – my mouth is watering!
I must say, this Maui-inspired banana bread is pretty damn close to the original version, but nothing can compare to the love of Aloha Hana locals put into theirs! Give it a try and let me know your favorite banana bread french toast combination!


Maui Banana Bread: walnuts, dates, poppy seeds
2014-04-03 21:57:40
Dry ingredients
2 cups gluten free flour blend
1/2 cup chopped walnuts
1 Tablespoon poppy seeds
1 teaspoon baking soda
1/8 teaspoon salt
Wet Ingredients
3 large ripe or over-ripe bananas, divided
1/3 cup date paste
1/2 cup melted coconut oil, divided + more for oiling pan
1/4 cup + 2 Tablespoons maple syrup
2 eggs
3/4 teaspoon vanilla extract
Instructions
Preheat oven to 350 degrees and grease a 9" x 4" loaf pan with coconut oil. Set aside.
In a food processor, blend date paste, 1 1/2 bananas, and 1/4 cup coconut oil together until well combined. (I find if I don't blend the date mash with something else, it doesn't incorporate properly). In a medium sized bowl, combine date paste/banana/coconut oil mixture with the remaining wet ingredients, ensuring to mash up the remaining bananas.
In a separate bowl, sift the flour, salt and baking soda together. Add walnuts and poppy seeds.
Fold the wet ingredients into the dry ingredients and pour into the loaf pan. Bake in oven at 350 F for 60-70 minutes or until a toothpick is inserted and comes out dry.
Love & Garnish — A Nourishing Kitchen http://loveandgarnish.com/