Another post on something sweet?! Yep, because I have some exciting news for you: my husband and I are expecting our first little babes!! We are over-the-moon thrilled but with pregnancy comes a lot of changes and two of them are cravings and aversions. Naturally, because I never had a sweet tooth, I now have a raving one! (Seriously, ask my parents: at kid's birthday parties I would be the only one passing on cake and ice cream!) As much fruit as I try to eat to fill this void, nothing quite satisfies like chocolate! That is where/This is when these glorious raw "chocolate nut butter balls" come into my life to save the day: no white sugar, no processed ingredients, no disgusting chemical ingredients that you can't pronounce…only beautiful, whole foods with healthy, nourishing fats.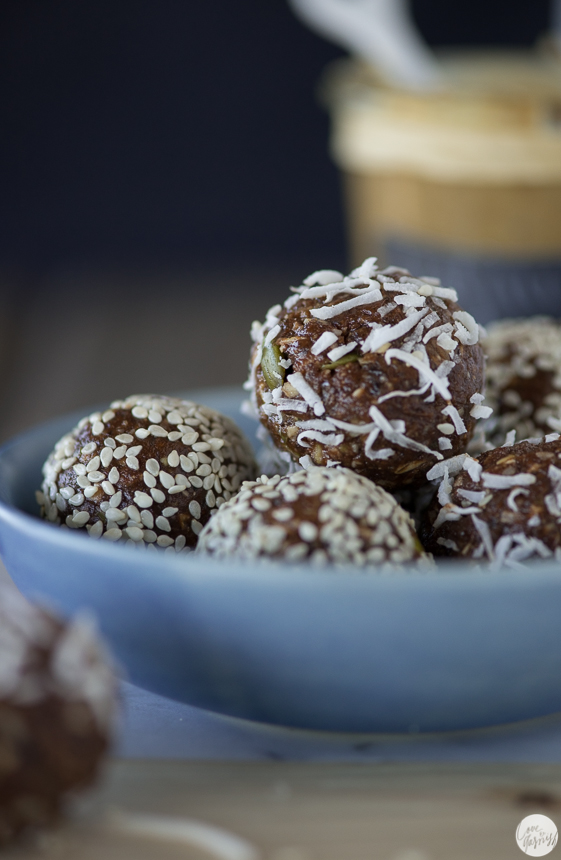 FAT?! Did that word scare you?! Did it make you shiver with the idea that you would instantly start packing on the pounds the moment it hits your lips?! Oh the contrary! I know I've touched on the difference between healthy fats and bad fats before, but I really want to get down to the nitty gritty this time. If you don't take anything else away from this post, I want you to remember this one thing: the amount of calories you consume is far less important than the type of calories you consume. I used to be the girl who was so afraid of "fats" yet would eat an entire back of fat-free chips….oh how things have changed now that I've learned a bit more on the benefits of fats and what being healthy is really all about.
BENEFITS OF HEALTHY FATS:
How can you use the word healthy and fat in the same sentence, you ask?! Easy: various fats are essential for optimal health, primarily for the nervous system (that goes for the developing nervous system of a little babes like mine!). Cholesterol is actually the building block to our stress and sex hormones and is needed for the production of vitamin D. Don't worry, if you don't eat enough, your body will make more anyway. Fats also compose the structure of all cell membranes, are needed for proper cell communication, and are good for brain health because they are the precursors to many neurotransmitters affecting the brain and nervous system. Fats are also needed for the absorption of fat-soluble vitamins such as A, D, E and K.
Because fats take the longest to digest, they help slow down digestion and help you stay full longer, thus helping you to eat less during the day. Some fats such as choline and inositol (found in GMO-free soybeans, lecithin granules and egg yolks) are actually lipotropic, meaning they help break down bad fats and help lower cholesterol by emulsifying fat. Pretty sweet for something you thought would make you gain weight, right?!
Did you notice I said various fats and not all fats? Again, this is because it is more important to pay attention to the type of fat and not the amount of fat. Below I have listed the fats you want to include in your diet and why.
GET TO KNOW YOUR NEW, FAVORITE FATS:
Mono-unsaturated fat
: these can be obtained from olive oil and avocados. Think Meditteranean- type diets. Studies have shown that consuming higher amounts of these fats actually raise your resting metabolic rate. Olive oil is also the number 1 recomended oil for individuals with high cholesterol because it helps lower it.
Poly-unsaturated Omega-6's
: these can be obtained from sesame seeds, sunflower seeds, hemp seeds, pumpkin seeds, and evening primrose oil. Evening primrose oil is amazing for women because the gamma-linolenic acid in evening primrose oil has been shown to help with hormonal imbalances, PMS and menopause (I can vouch for this!!).
Poly-unsaturated Omega-3's
: these are found in walnuts, pumpkin seeds, flax seeds, hemp seeds, and chia seeds. Your body actually works very hard to convert these into EPA and DHA which is the usable form, so to cut out the middle man, take fish oil, eat cold-water, fresh (not farmed) fish and eat seaweed. There are still many benefits to the nuts and seeds, so eat a well-balanced diet of all the above.
*The beauty of Omega-6's and Omega-3's is that they produce hormone-like substances called prostaglandins. Prostaglandins are health-promoting: anti-inflammatory, anti-pain, decrease "sticky-ness" of blood platelets so aids in blood flow, anti-blood clotting, increase loss of sodium, enhance immunity and even lowers blood pressure. Sadly, a typical north-american diet is deficient in these.
Saturated
: animal sources such as beef and egg yolks as well as coconut oil should be consumed in moderation due to arachadonic acid. Arachadonic acid is a type Omega-6 fat, and when consumed in excess can be harmful, because this type of Omega-6 fat does not produce the good prostaglandins and in fact produces prostaglandins that do the exact opposite of the good prostaglandins! However, there are benefits when consumed properly. Egg yolks contain choline and inositol which actually emulsify fats in the body and help lower cholesterol. Choose grass-fed, organic, free-range animal products when possible as these have less arachidonic acid. However, coconut oil has actually been shown to act as an unsaturated fat in the body: it is anti-inflammatory and thermogenic! This is a great fat to use for cooking such as baking and stove-top preparations.
FATS TO AVOID:
It goes without saying the unhealthy fats you should be avoiding are fried foods, hydrogenated fats, processed foods, sugar and alcohol (chemically sugar and alcohol are not fats, but an anti-nutrient that effects the conversion of healthy fats).
HOW TO CARE FOR YOUR POLY-UNSATURATED FATS:
Because the unsaturated fats are so fragile, great care must be taken when storing and using them. Light, heat, and oxygen destroys these fats and actually turns them rancid, creating free radicals in the body (see my last blog post on the pitfalls of free radicals). This can easily be avoided by keeping your oils, nuts, and seeds in the fridge and not heating them. The oils of the nuts and seeds, such as hemp seed oil and flaxseed oil, should be kept in dark containers in the fridge. Don't ever heat any of the Omega 3's and 6's (technically all unsaturated, but most definitely not these two categories) and only use them in cold salad dressings or in recipes like this one below that keep them cool.
Don't restrict yourself to eating your nut and seed butters with apples and pears. The possibilities are endless: turn them into desserts like I've done here, a festive spiced pumpkin and nut butter dip, homemade peanut satay sauce, or perhaps in a soup like Martha did
here
or in an inventive sauce for noodles and greens like "My New Roots" did
here
. Creating nut and seed butter is easy, so get creative today!
P.S.
You may not hear from me for a couple of weeks as we are off to Italy (plenty of food photos will be posted on my
Instagram
account!). However, I am so very excited to for the guest blogger who will be making a debut appearance on Love and Garnish next week! Stay tuned for some amazing holistic recipes and my recap of Italian food when I return!
Ciao!

Natural Nut Butter
2014-09-16 22:17:36
GROCERY LIST
2 cups raw, soaked nuts (I used 1 1/2 cups walnuts, 1/4 cup almonds, 1/4 cup cashews)
1 teaspoon flaxseed oil
1 teaspoon honey or maple syrup (optional)*
Instructions
In a food processor, blend nuts for 10 minutes, scraping the edges down often.
Add the flaxseed oil and sweetener. Blend for another 5-10 minutes or until the mixture is smooth and creamy.
Notes
The sweetener is optional; I never use the sweetener, however, if you are used to store-bought peanut butter, you may enjoy a bit of sweetener. Try it without if you can; its actually sweet on its own!
Love & Garnish — A Nourishing Kitchen http://loveandgarnish.com/

Raw Chocolate Nut Butter Balls
2014-09-16 22:26:48
GROCERY LIST
6 dates
6 apricots
2 Tablespoons nut butter of your choice
2 Tablespoons oats
1 Tablespoon cocoa powder (carob powder for vegan option)
1 Tablespoon maple syrup
1/4 teaspoon vanilla powder
1 Tablespoon pumpkin seeds
2 Tablespoons shredded coconut
1 teaspoon raw dark chocolate chips (carob chips for vegan option)
optional: extra shredded coconut or sesame seeds for rolling
Instructions
In a food processor, combine dates and apricots; pulse until they are in small pieces. Add nut butter, oats, cocoa or carob powder, maple syrup, and vanilla powder. Pulse until a thick consistency has formed. Add pumpkin seeds, shredded coconut, and chocolate or carob chips; pulse until combined and the seeds are still in chunks. Transfer the mixture to a bowl and form the mixture into balls. You can roll the bolls in coconut or sesame seeds if you like. Place on parchment paper and chill in fridge or freezer for 30 minutes.
Love & Garnish — A Nourishing Kitchen http://loveandgarnish.com/