Growing up, I was never big into Halloween. I mean, it was fun: getting dressed up in whatever costume my grandmother had made us, running around the neighborhood begging for candy, then realizing when I got home I didn't really want any of the candy, so giving it all to my brother (after I picked out a few of the good pieces of course!). He would happily oblige, eating himself into a sugar-coma while I looked on with a sly smile on my face. To this day, I have never had a cavity.
Besides, Halloween was really just a stepping stone to get to my two favorite holidays: Thanksgiving and Christmas.
To me, the best part about Halloween is the abundance of pumpkins: the sweet smell of baked pumpkin filling the house, spices arising from the oven as pumpkin seeds are dried and roasted, and the endless possibilities that come with each. For me, these smells signal the transition of early Fall and Halloween to American Thanksgiving, white-capped trees and other signs of an approaching winter.
Unfortunately, we had no time to carve a pumpkin this year. Lucky for me, my husband is just as obsessed with pumpkin seeds as I am. The day after Halloween, I came home to a divine smelling kitchen, as he had already cut, cleaned and prepped the pumpkin as well as roasted all the pumpkin seeds! Thanks babe! So now, I have TONS (I mean, like 4 large containers of pumpkin!) to get through before we leave for vacation. No worries! Out come pumpkin chai muffins, pumpkin and black bean stew, a pumpkin truffle pasta (which I must share on this blog one day!) and these interesting pumpkin curry crepes. They were an experimental little food project, but I think they turned out quite well! I must still be on a yogurt and spices kick after my Seattle trip because I couldn't help but add a dollop of harissa-spiced yogurt to the top of these babies! If you can't find harissa paste, plain yogurt will suffice.
PUMPKIN
The orange tint of pumpkins give away its main phytonutrient: carotene, "beta-carotene". Carotene converts to vitamin A in the body, which is one of the main antioxidants to combat free radicals in the body. It also helps prevents heart disease, cancer, and many of the degenerating signs of aging. I speak more about the benefits of vitamin A here. Pumpkin, and most squash for that matter, are a great source of fiber to keep you feeling full longer. Fiber also maintains proper elimination to help keep the colon clear and ensure the body is ridding itself of toxins. When choosing pumpkins, you should actually look for a smooth but dull skin. A shiny skin indicates immaturity. The more mature the pumpkin, the sweeter the flesh!
Pumpkin seeds might be my favorite! They are a great source of protein and contain a high amount of Omega 3 essential fatty acids (EFA's) which are so very important for our cellular makeup. I have talked about the importance of Omega 3's so many times on my blog so look here for more information! A bonus for pumpkin seeds: they contain the amino acid tryptophan, which converts to other substances in the brain. These substances, such as GABA, relaxes the body, calms the nerves, improves sleep and aids neuron communication.
So I am saying goodbye to winter for a bit and traveling across the world to Australia for the next 2 weeks (family wedding)! I might be a bit distant on Love and Garnish, however, you can follow my adventures on Instagram!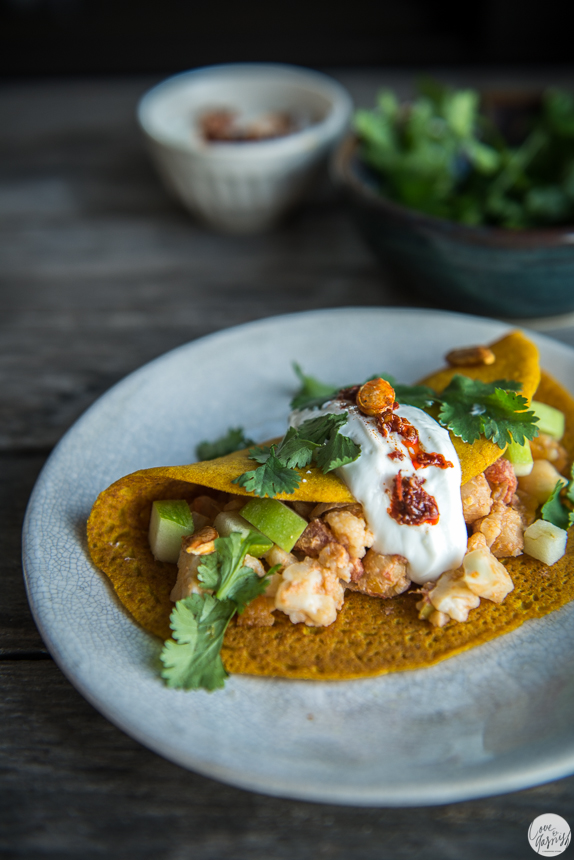 Curried Pumpkin Crepes: chickpeas, apple, cilantro, & harissa yogurt
2014-11-07 04:10:22
Serves 4
Crepes
2 cups raw pumpkin chunks or ½ cup pureed pumpkin
2 Tablespoons coconut oil (if using raw pumpkin)
2 organic, free range eggs
¾ cup almond milk*
1 ½ Tablespoons maple syrup
1 ½ Tablespoons curry powder
½ teaspoon powdered ginger
¾ teaspoon salt
¼ teaspoon cumin
¼ teaspoon turmeric
½ cup brown rice flour or fine brown rice flour.
Filling
2 Tablespoons coconut oil
1 garlic clove, chopped
1 small tomato, diced
½ a small head of cauliflower
7 oz chickpeas (1/2 a small can)
½ a granny smith apple, chopped
2 large pinches of salt
¼ teaspoon cumin
4 Tablespoons of coconut cream**
½ Tablespoon tahini
Toppings
Large handful of fresh cilantro to garnish
½ cup yogurt (optional)
1 Tablespoon harrissa paste (optional)
Pumpkin seeds to garnish*** (optional)
Instructions
If using raw pumpkin, preheat oven to 350. Toss the chunks with 2 Tablespoons of the coconut oil, and sprinkle with salt and pepper. Roast at 350 for 35-40 minutes, depending on the size of the chunks. While the pumpkin is roasting, prepare the crepe filling.
In a large iron skillet, heat the coconut oil and garlic over medium-low heat for 1 minute until garlic is fragrant. Add tomato, cauliflower, chickpeas and apple and sauté for 5 minutes. Add the salt and cumin and sauté for another minute. Stir in the coconut cream and tahini. Remove from heat and set aside.
When your pumpkin is finished roasting, transfer to a food processor and blend until pureed thoroughly. Transfer to a medium sized bowl and add eggs, milk, maple syrup, curry powder, ginger, salt, cumin, and turmeric. Whisk together to combine well. Gently stir in the flour and set aside.
Heat a small nonstick skillet over medium heat. Slowly, pour a bit of the crepe mixture into the skillet. Slowly and carefully, swirl the pan to create a thin coating of the crepe mixture in the pan. Cook over medium-low heat for 3-4 minutes until it starts to bubble and you can run a spatula around the edge without it breaking (you should be able to run the spatula around the edge easily, picking up the edge). Loosen the crepe from the pan, flip onto its other side, and cook for an additional minute. Transfer to a plate and repeat with the remaining batter.
If using the yogurt and harissa, mix the harissa into the yogurt and set aside.
Fill each crepe with a bit of the chickpea, cauliflower and apple filling. Top with yogurt, fresh cilantro, and pumpkin seeds.
Notes
*If using 2 cups raw pumpkin, you will need ¾ cup of milk. If you are using canned pumpkin puree, you will only need ½ cup of milk. I find the flavor is much better with fresh pumpkin.
**Cans of coconut cream (not milk) should be available at your local grocery store. However, if you can't find coconut cream, place a can of regular coconut milk in the fridge overnight. In the morning, open the can without shaking and remove the cream from the top.
***If roasting the seeds from the inside of a fresh pumpkin: Scoop seeds out of the middle of the pumpkin. Wash thoroughly to clean off any fiber or pulp then allow to dry completely (a salad spinner works great for this!). On a parchment paper lined baking sheet, bake at 250 F for one hour and 20 minutes. As you remove them from the oven, drizzle with a bit of tamari when they are still on the hot baking sheet. I used about 1 Tablespoon of tamari for ½ cup pumpkin seeds.
Love & Garnish — A Nourishing Kitchen http://loveandgarnish.com/