I haven't visited this space in a while…a space that now feels like a distant friend whom I loved catching up with for a weekly coffee. A friend that meant so much to me and was so much a part of me. Then life got too busy, diapers piled up, things became stressfully dark at times, and the coffee dates quickly dwindled to a sweet memory. It isn't because I didn't want to be here. I did; more than anything. Before Knox was born, this blog was my identity. A proud badge of honour I wore and enjoyed sharing with people. I couldn't wait to send my readers the next newsletter, excitedly telling them of my newest kitchen creation.
I wasn't sure if I was going to go into the reason why I have been away for so long. However, as a new mother with so many friends becoming new mothers this year and hopefully the next, I feel it's important I do so. About 2 months ago I had a very scary meeting with Post Partum Depression. Things got real, real quick. It became quite clear I had taken on too much, thinking I could easily be super woman/mom: keeping up with my blog, taking on even more projects for "Love and Garnish", entertaining visitors every day for a month, cooking, laundry, exercising, and of course, taking care of Knox. What has taken me almost Knox's entire life to realize is that all of those goals for a new mother is absolutely absurd. After 2 months of trying to juggle all of those things, I fell into a dark, lonely place of anxiety and depression, with day-long crying fits I couldn't control and nightmares that turned into days of anxiety attacks. I got to the point where I couldn't even be alone at night, following my husband around the house, forcing him to come to bed at the same time as me so I could hold his hand while I anxiously drifted off into a scary sleep.
It wasn't until I reached out to a friend, my midwife, that I got the help I needed. I was too ashamed to tell anyone else the whole story, even my husband. "What would people think of me?! How would it make me look as a mother if people knew the things going through my head?!" Thank god I spoke up and confided in a friend because I soon found out those are common themes in the mind of a mother suffering from PPD. After I got the help I needed, I was quickly on my way back to my old self. There is nothing more scary than not having control over your mind and emotions. But what I learned was this was not my fault; it was those crazy post-natal hormones! Those things are no joke, I tell you! After I sought help, I put together a wellness plan for myself: twice a week I would go to yoga and Dane would watch Knox, I would ask for help even when I think I didn't need it, I would allow Dane's mom to come babysit more often so I could take naps, I would put everything on the back burner for a while so I could concentrate on being a mom, and I would employ a powerhouse of professionals to get me through this (my naturopath, my Dr., a counsellor, a psychiatrist, and my holistic nutrition knowledge). Everyone's story ends differently but I am proud to say I was able to do this without conventional medication. Don't get me wrong, I wasn't sure if I could do it, so I had the anti-depression prescriptions filled and tucked away in my drawer should I have another "dark spell". I consider myself lucky that I was able to do this naturally and haven't needed them yet. Not everyone can do that and shouldn't try to do it if its not right for them. Bottom line is that Knox is safe, so if my husband or I ever thought he was or could be in danger, I agreed to go on the medication. That day hasn't come and I'm so very happy.
So today, I am sharing with you a recipe I shared with Pure Green Magazine a few weeks ago. Pure Green Magazine is taking submissions from readers on seasonal recipes to be included in a cookbook and this was one I submitted for Spring.
In lu of my new mantra "It doesn't matter what you do, just do it well", I vow not to put too much pressure on myself to come back to this space on a weekly basis…maybe not even on a bi-monthly basis, but whenever my fingers miss the keys and whenever my sweet Knox and mental health allow me the time to photograph and write, I will be back. So when you read a post from me, whenever that may be, know that I worked hard on it. I took a bit of time out of each of my well-energized days to put together the blog post you are reading right now. I savoured every moment in this space because I wasn't sure when it would come around again. It doesn't matter that I'm not posting every week, only the quality of my work when I do post. So here it is: a quality recipe that has been so damn popular in my house over the past couple of months and a dish that got gobbled up as soon as it hit the table at every event I brought it to. I hope you enjoy 🙂
I would like to add that if you are going through PPD or think you are experiencing symptoms, go talk to someone immediately. You are never alone and there are so many women out there going through the same thing, we just have to speak up and get the help we need and our children deserve. Everyone deserves to be happy and healthy but how we get there is our own journey.
xoxo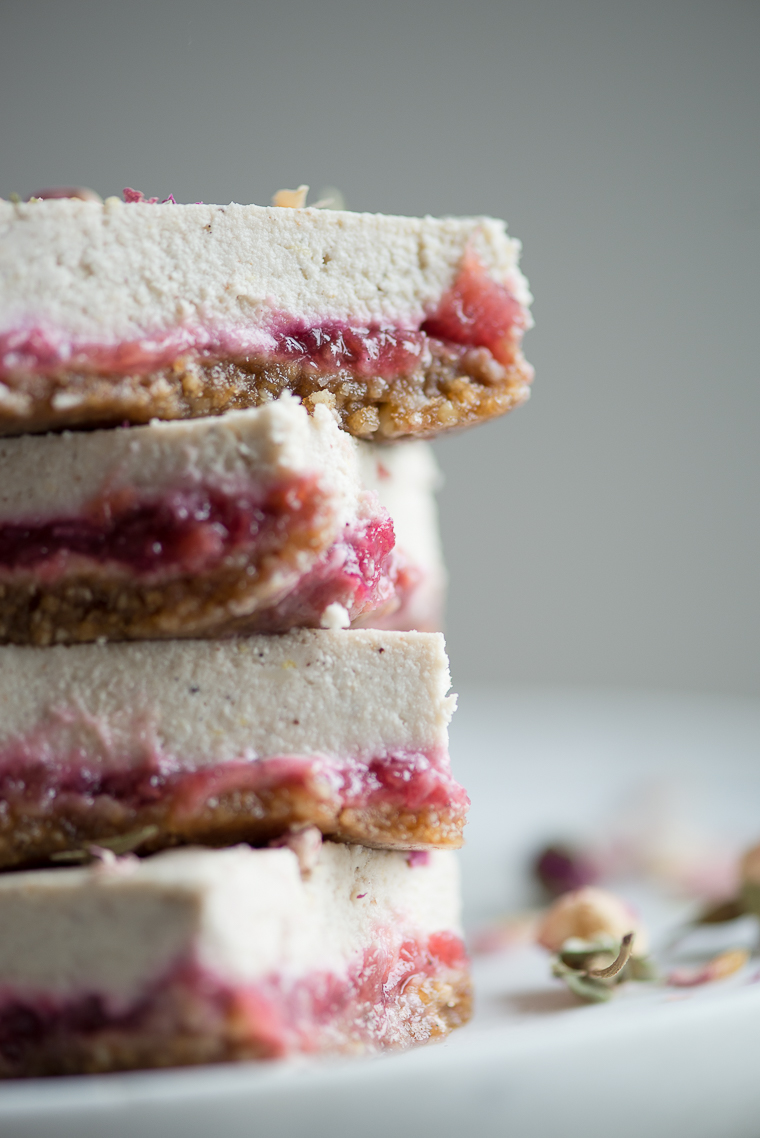 Lemon Coconut Squares with Rose-Water Stewed Rhubarb
2015-07-08 20:57:34
Rose-stewed rhubarb
1 1/2 cups cubed rhubarb
1/4 cup rose water
1/3 cup honey
1, 2-inch piece of vanilla bean
Lemon Coconut Cream
1 1/2 cups cashews, soaked in pure water overnight
8 Tablespoons fresh lemon juice
1 cup coconut cream*
1/2 teaspoon vanilla powder or vanilla bean seeds
1 1/2 teaspoons lemon zest
3 Tablespoons honey
1/4 cup melted coconut butter (make sure this is liquid when added to the blender)
Pinch of salt
Crust
1 1/2 cups walnuts
1/2 cup date paste
1/4 cup shredded unsweetened coconut
Dried rose petals, optional garnish
Extra shredded coconut, optional garnish
Instructions
In a food processor, combine walnuts, date paste and coconut. Pulse until well combined. Line a 9" x 7" pan with parchment paper. Spread the date-walnut mixture on the bottom and press down firmly to make a flat layer that lines the entire bottom of the pan. Transfer to the fridge.
Prepare the rhubarb: Cut the vanilla bean lengthways and scrape the vanilla bean seeds out. Transfer the vanilla bean and seeds to a small saucepan and add rhubarb, rose water, and honey. Bring to a boil, lower the heat to medium-low and simmer uncovered for 8 minutes. Pour the rhubarb over the date-walnut mixture and spread evenly to create a second layer. Transfer back to the fridge for at least an hour.
Prepare the lemon coconut cream: Drain the cashews and rinse thoroughly in clean water. Add the cashews to a high-powered blender along with the lemon juice, coconut cream, vanilla powder, lemon zest, honey, liquefied coconut butter, and salt. Blend on high until well combined. Pour over the rhubarb and transfer back to the fridge for a minimum of 2 hours.
Slide the parchment paper with the contents onto a cutting board. Cut into squares and enjoy!
Notes
To save time, I made the rose-water stewed rhubarb the night before and allowed it to cool in the fridge overnight while the cashews soaked. In the morning, I was able to put this together quite quickly because the rhubarb had already chilled.
Love & Garnish — A Nourishing Kitchen http://loveandgarnish.com/